Long Island, NY Fire Damage Cleanup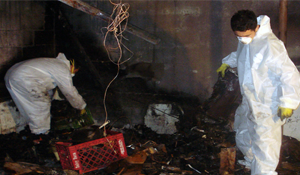 W
e have decades of experience in the cleaning & restoration industry restoring properties back to normal after a tragic event like a fire damage and most of our work comes from referrals. 911 Flood offers a full line of fire damage restoration services. Our experience includes residential and industrial fire damage restoration. We will help you to expedite your loss with your insurance company so you can settle quickly.




What should be done
1.Check with the fire department to make sure your home or building is safe to enter.
2.Check for any structural damage caused by the fire to insure safety on the job site.
3.The fire department should see that utilities are either safe to use or are disconnected before they leave the site. DO NOT attempt to reconnect utilities yourself. We will check for you to insure safety on the job site.
4.Our technicians will conduct an inventory of damaged property and items. Do not throw away any damaged goods until after an inventory is made, and when possible try to locate valuable documents and records.
5.If you leave your home, contact the local police department to let them know the site will be unoccupied.
6.Begin saving receipts for any money you spend related to fire damage loss and repairs. The receipts may be needed later by the insurance company and for verifying losses claimed on income tax.
7.Notify your mortgage company of the fire damage and repairs.
8.Check with an accountant or the Internal Revenue Service about special benefits for people recovering from a fire damage loss.


Hiring 911 Flood to remedy soot damage
There are several reasons to hire a professional restoration company in the time following a house fire. Smoke damage remediation is a component of the fire restoration that all homeowners must do after a fire. Hiring a professional restoration company to complete this task for you offers many benefits. It allows the restoration contractors to address several issues simultaneously such as water damage, fire damage and smoke and soot damage. Professional restoration contractors also have the experience and training to remedy soot damage wherever it occurs in your home. Hiring a professional is the easiest and most worry free solution to any soot problem.


Call Immediately For Service To Prevent Further Damage
Quick action can save your property even after fire damage. 911 Flood will help by protecting your house and mitigating the damages. Fire destroys almost everything and can leave your home uninhabitable, however fire damage does not always mean a total loss. 911 Flood can restore your property completely and get you back to life the way it was before the loss occurred. This is our profession and passion!