Leak Detection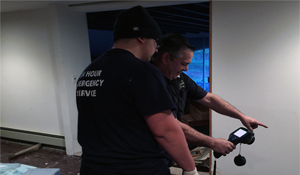 Waking up to an unexpected water Damage, flooded basement etc. can be a very stressful situation, but knowing that there are very experienced, qualified serviceman prepared to restore your home to its calm and healthy environment should be very reassuring. Water Damage can take your home by surprise usually at a very inconvenient time. We have state of the art equipment that can detect moisture in walls, floors, ceilings, etc. These services will always take priority because of the damage that they can cause.
For water damage or floods in Long Island, Westchester and the Five boroughs call the pro's at 911 Flood, the water extraction, flood clean up and flood repair service experts. These are the services we provide in water and flood damage situations:
Water damage inspection: First we will assess the damage by walking through the premises with the home or business owner and prepare a scope of work for approval.
Detailed flood repair estimates: Once we have an approved scope of work we will immediately write an estimate for the water damage cleanup.
Water extraction and removal: Once the estimate is approved we will proceed with the water extraction and removal of all wet contents for salvage or disposal.
Sanitization: Once the water is extracted, the carpet, padding removed, any wet drywall, etc. removed, contents put on blocks, we use an anti-microbial to protect against any bacterial growth.
Drying / dehumidification of flooded space: After the anti-microbial is applied the final step would be to set up air movers and dehumidifiers so the entire structure dries properly. These machines have to run continuously for 72 hours.
Complete property reconstruction: 911 Flood can completely put your home back to the way it was before the water damage occurred, like it never happened!
Direct insurance billing: If the loss is covered by your homeowners insurance policy 911 Flood will bill your insurance company directly and wait for payment from them
Removal Of Wet Damaged Materials:
During a flood cleanup the indoor air quality in your home or office may appear to be the least of your problems, however failure to remove contaminated materials and to reduce moisture and humidity can present long-term health risks. Standing water and wet materials are a breeding ground for microorganisms such as viruses, bacteria, and mold. They can cause disease, trigger allergic reactions and continue to damage materials long after the water is gone. It can be difficult to throw away items in a home, particularly those with sentimental value, however keeping certain items that were soaked by water damage may be unhealthy.
Some materials tend to absorb and hold water more than others. In general, materials that are wet and cannot be thoroughly cleaned and dried within 24-48 hours should be discarded as they can become a source of microbial growth. Microorganisms brought into the home during flooding may present a health hazard. These organisms can penetrate deep into soaked, porous materials and later be released into air or water. Coming into contact with air or water that contain these organisms can make you sick. High humidity and moist materials provide ideal environments for the excessive growth of microorganisms that are always present in your home and may result in additional health concerns such as allergic reactions. Long term increases in humidity in your home can also foster the growth of MOLD. Mold is a major cause of allergic reactions and asthma.
© 2021