LONG ISLAND, NY
Storm Damage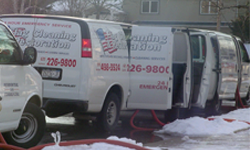 A STORM WATCH

issued for your part of the coast indicates the possibility that you could experience storm conditions within 36 hours.
This watch should trigger your business storm preparedness plan, and protective measures should be initiated.

A STORM WARNING

issued for your part of the coast indicates that sustained winds of at least 74 mph are expected within 24 hours or less.
Storm Strength
The intensity of a land falling storm is expressed in terms of categories that relate wind speeds and potential damage. According to the Saffir-Simpson storm Scale, a Category 1 storm has lighter winds compared to storms in higher categories. A Category 4 storm would have winds between 131 and 155 mph and, on the average, would usually be expected to cause 100 times the damage of the Category 1 storm. Depending on circumstances, less intense storms may still be strong enough to produce damage, particularly in areas that have not prepared in advance.

Storm-force winds can easily destroy constructed buildings. Debris such as signs, roofing material, and small items left outside become flying missiles in storms. Extensive damage to trees, towers, water and underground utility lines (from uprooted trees), and fallen poles cause considerable disruption.
When we arrive at your property

you can have confidence that the project will be handled with care and managed by certified restoration professionals with decades of experience. Our track record shows that we have dedicated ourselves to excellent customer service and we treat our customers and their properties as if they are our own.
We can supply real customer recommendations upon request. We also know that there are other companies that advertise that they are real restoration companies but in fact they are not. We encourage you to ask them, what is your BBB Rating?, How long has your management team been certified?, How long have you been in business?

We find that we go behind these companies and fix the problems that they cause property owners. We are a vendor for many major insurance companies because of our track
record! We stand behind our work 100%.